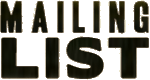 Send us an e-mail to be added to our mailing list.







souljazz@hotmail.com







The Souljazz Orchestra
on Twitter







The Souljazz Orchestra
on Facebook







CD Baby
Strut Records
Do Right! Music
Marlow Records
Atlantis Jazz Ensemble
Slim Moore
People Project
Phil Motion
Zakari Frantz
Timekode





"World Music Album of the Year": Resistance
- 2016 JUNO Awards, Canada
(Nominee)



"Top International Album of 2015" (#1): Resistance
- !earshot 2015 Year-End Radio Charts, Canada



"Top Song of 2015": Kossa Kossa
- Rebecca Nowak, Funkhaus Europa,
Köln Germany



"Top Songs of 2015": Kossa Kossa
- Craig Charles, BBC Radio 6, Manchester UK



"Top Songs of 2015": Courage
- Émile Omar, Radio Nova, Paris France



"Top Canadian Albums of 2015": Resistance
- CBC Music, Canada



"Top Jazz Albums of 2015": Resistance
- AllMusic, USA



"Top Albums of 2015": Resistance
- Global A Go-Go, Richmond VA



"Top Albums of 2015": Resistance
- Weltbeat, Frankfurt Germany



"Top Albums of 2015": Resistance
- Record Breakin', Philadelphia PA



"Top Albums of 2015": Resistance
- Allan "Alski" Laskey, WWOZ, New Orleans LA



"Top Albums of 2015": Resistance
- Lord Lewis, Rumpus Room, Middletown CT



"Top Songs of 2015": It's Gonna Rain
- Canadian Music, Canada



"Top Songs of 2015": Soleil Couchant
- Melting Pot, Los Angeles CA



"Top Songs of 2015": Ware Wa
- Radio Mukambo, Brussels Belgium



"Top Songs of 2015": Life Is What You Make It
- Anatoly Ice, Moscow Russia



"Jazz Artist of the Year" (Nominee): Inner Fire
- 2015 Indie Awards, Canada



"Top International Album of 2014" (#1): Inner Fire
- !earshot 2014 Year-End Radio Charts, Canada



"Top Jazz Albums of 2014" (#2): Inner Fire
- !earshot 2014 Year-End Radio Charts, Canada



"Top World Albums of 2014" (#12): Inner Fire
- CMJ 2014 Year-End Radio Charts, USA



"Top Jazz Albums of 2014" (#12): Inner Fire
- CMJ 2014 Year-End Radio Charts, USA



"Top Jazz Albums of 2014": Inner Fire
- AllMusic, USA



"Top Albums of 2014": Inner Fire
- DJ Patrick Forge, London UK



"Top Albums of 2014": Inner Fire
- DJ Jeremy Sole, KCRW, Los Angeles CA



"Top Albums of 2014": Inner Fire
- Pop Matters, USA



"Top Soul/R&B Albums of 2014": Inner Fire
- Exclaim!, Toronto, ON



"Top Albums of 2014": Inner Fire
- Paris DJs, France



"Top Albums of 2014": Inner Fire
- Le Mellotron, France



"World Music Album of the Year": Solidarity
- 2013 JUNO Awards, Canada
(Nominee)



"World Music Artist of the Year"
- 2013 Indie Awards, Canada
(Winner)



"#1 Album of 2012": Solidarity
- Paris DJs, Paris France



"#1 Album of 2012": Solidarity
- DJ Solespin, CJLO, Montreal QC



"#1 Global Grooves Album of 2012": Solidarity
- Record Racks, Indianapolis IN



"Top Tracks of 2012": Cartão Postal
- DJ Gilles Peterson, BBC Radio 6



"Top International Albums of 2012" (#2): Solidarity
- !earshot 2012 Year-End Radio Charts, Canada



"Top World Albums of 2012" (#10): Solidarity
- CMJ 2012 Year-End Radio Charts, USA



"Top World Albums of 2012": Solidarity
- CBC Music, Canada



"Top Groove Albums of 2012": Solidarity
- Exclaim!, Toronto ON



"Top Albums of 2012": Solidarity
- Vibrations Magazine, France/Switerland



"Video of the Week": Conquering Lion
September 21st, 2012
- National Geographic, Washington DC



"Album of the Week": Solidarity
September 4th, 2012
- Fonkadelica, Angers France



"Video of the Week": Ya Basta
August 31st, 2012
- National Geographic, Washington DC



"Top Bands of 2011"
- Ottawa XPress, Ottawa ON



"Top Concerts of 2011":
April 14th, gazARTE
- Radio Kosmos, Athens Greece



"2011 Instrumental Album of the Year":
Rising Sun (Nominee)
- Juno Awards, Canada



"#1 Album of 2010 by a Canadian Band" and
"Top 10 Albums of 2010": Rising Sun
- CBC News, Canada



"Top 10 Albums of 2010": Rising Sun
- Chris Burland, CHARTattack, Toronto ON



"Top 10 Albums of 2010": Rising Sun
- Paris DJs, Paris France



"Top Albums of 2010": Rising Sun
- Piccadilly Records, Manchester UK



"Top 10 Albums of 2010": Rising Sun
- DJ Jeremy Sole, KCRW Radio, Santa Monica CA



"Best Albums of 2010": Rising Sun
- DJ Ennio Styles, RRR Radio, Melbourne Australia



"Top Bands of 2010"
- Ottawa XPress, Ottawa ON



"Top Albums of 2010": Rising Sun
- Ottawa XPress, Ottawa ON



"Track of the Week": Mamaya
February 1st, 2010
- National Geographic, Washington DC



"Top Remix of 2009": Watch We
- Musiques impures, France



"Most Intense Concert of 2009":
May 13th, La Bellevilloise
- VoxPopMag, Paris, France



"Top Album of 2008": Manifesto
- Kalcha, Vibrations Magazine, France/Switzerland



"Top 10 Albums of 2008": Manifesto
- SoundProof Magazine, Toronto ON



"Top 10 World Albums of 2008": Manifesto
- FFWD Entertainment Weekly, Calgary AB



"Top 10 Albums for December 2008": Manifesto
- !earshot Canadian Indy Radio Charts



"2007 Band of the Year"
- Voir Magazine, Gatineau/Ottawa



"Top 10 Albums of 2007": Freedom No Go Die
- DJ Scott C, Montreal Mirror



"Best Albums of 2007": Freedom No Go Die
- Highlife World Music Magazine, Vancouver BC



"Top 10 Tracks of 2006": Mista President
- Gilles Peterson Worldwide, BBC Radio 1, UK



Ottawa Life
by Andre Gagne
March 26th, 2016
Ottawa, ON

Souljazz Shakedown!

The crowd outside Babylon Nightclub was ready for a shakedown. The clock struck ten and they began to hunt. They rushed through security, eyes scanning every inch of the club. Some flicked on phone flashlights and started scanning the ceiling. Others pushed by them to peek behind speakers, under tables and behind the bar. The soundtrack for the search was sweet soul spun by a DJ perhaps wondering how long it would take before the stage would be pounced upon by the hunters. They spared him, instead turning towards the furniture to lift cushions, move chairs, and open drawers when suddenly somebody let out a cry of: "We got one!"

Under usual circumstances this would be cause for alarm, an opportunity for you to discover just why they are called "bouncers" and a rapid rediscovery of the sidewalk outside of the nightclub. However, this wasn't a regular night in Babylon. This was an Easter Weekend Shakedown, a playful idea drummed (and sax'ed) up by one of Ottawa's premiere party bands, The Souljazz Orchestra.

"We wanted to add something else, something Easter-themed, and we thought why not an egg hunt?" laughs Pierre Chrétien, the group's bandleader and vintage keyboard player, before taking the stage to a very enthusiastic crowd.

Fans, after scouring the club for eggs, could trade them in for vinyl releases or CDs and with such incentive the hunt was over quickly. With every egg discovered the crowd was ready to move and groove to a band that's live shows have become legendary.

The March 24 Easter weekend kick-off show was a welcome return for the band. Before earth quakin', soul shakin' shows in the US and UK, the Juno nominations and critical acclaim the band was unleashing their funky blend of Soul, Afro, Latin, Jazz and Caribbean style onto hot crowds at Babylon every Thursday night.

"As they started to grow in popularity outside of Ottawa and tour more, the weekly event became unfeasible," says club owner Adam Kronick. "We have always stayed in touch aiming to host usually two to three shows a year for the local fans. They are such a terrific band with so much talent. We always welcome the opportunity to have them play the club."

The mood for the evening was set by DJ Magnificent who spun some classic up-temp soul 45s to a crowd that filled the floor early in anticipation of the thunder about to strike the stage. Magnificent, also known as Alex Edwards, is grooving towards year seven with his Double Barrel vinyl only funk, reggae and soul shows. Edwards spun at Mugshots before the place closed down in controversial style last year but you can now boogie with him to the beats Friday nights at the Mercury Lounge.

'The great thing about DJ Magnificent is that his style meshes in so well with ours," says Chrétien of their first collaboration with Edwards that night. "We don't touch exactly on the same styles but it's complimentary. It's all about the groove."

The band previewed a few new tracks mixed in with some old favourites that had the boisterous crowd singing and fist pumping as they danced. It's not a Souljazz show until you're dripping sweat and your feet are on fire. Winter wear did not stay coated to skin long. With the energy the band provided you have to wonder if the venue was harnessing that to channel into the lights. You feel this music in you wrapping around your muscles as it grips hold pit bull strong and defies you to stay still. The horns are infectious, the vocals inject you with sweet soul sickness and the only cure is to dance it all out. If you find yourself still moving when you're in bed after the show, don't worry. Those are just aftershocks.

The band heads on over to Africa in May, their first time playing there, but they'll be back to headline Westfest in June.



!earshot
by Shelley Gummeson
January 7th, 2015
Canada

!earshot charts - top 20 international of 2015

#1 The Souljazz Orchestra
Resistance (Do Right! Music)

Thousands upon thousands of people have dropped the needle on Resistance, the seventh full-length album of Ottawa's The Souljazz Orchestra. It's been a whirlwind run this past year in top spot on the International charts and with good reason. Pierre Chrétien and the rest of the global troubadours of Souljazz have dished up their trademark, driving dance floor jams, with new rhythmic badness. Resistance is also their first full vocal album with members of the band taking a turn at the lead.

The Souljazz Orchestra seems to have a keen understanding of the history of the music they draw from and its intention. They blend African and French Caribbean rhythm with soul and jazz to highlight songs that emphasize positive political change for today. Then they turn it into a giant dance party. What better way is there to get a message across? "Bull's Eye" is a heavy afro track that was inspired by the Occupy movement on Wall Street. "Shock and Awe" is a rapid spitfire song that incorporates the heavy percussiveness of Coupé-Décalé. The album winds up with a very soulful "It's Gonna Rain".

The Souljazz Orchestra is a heavy touring band that have been playing together for 13 years making them supremely tight, yet not predictable. The New Year is staring to fill up with tour dates and will bring The Souljazz Orchestra to Africa for the first time.



Global A Go-Go
by Bill Lupoletti
September 15th 2015
Richmond, VA

ARTIST: The Souljazz Orchestra
TITLE: Resistance
LABEL: Strut

If there's one band in the world that best captures the Global A Go-Go esthetic, it might be The Souljazz Orchestra. The sextet from Ottawa, Canada has its roots in Afrobeat, incorporates an ever-increasing assortment of global influences, improvises like a jazz band, wears its left-wing politics on its sleeve, and never fails to make you wanna dance. Their first three albums for Strut Records (2010's Rising Sun, Solidarity in 2012 and 2014's Inner Fire) each made my year-end top ten list. This new one, believe it or not, may be the best of the bunch. The new influences this time are the rhythms of Francophone Caribbean and Africa: tracks 3 and 7 touch on Antillean zouk plus cadence and konpa from Haiti; 1 and 6 add snappy Congolese soukous drum patterns to Afrobeat. 9 is a classic Souljazz Orchestra Afro-funk workout that sounds like it should go on for 15 minutes. And 8 is a cover of an ultra-deep cut: East African funk from the 70's by the Loi-Toki-Tok Band (the original can be found on Soundway's terrific Kenya Special compilation). Certainly a contender for best album of 2015.



Exclaim
by Michael J. Warren
September 2nd 2015
Toronto, ON

The Souljazz Orchestra

Resistance

9/10

"If you kick a dog long enough, the dog bites back."

That phrase is the central theme to Ottawa's Souljazz Orchestra's rise of the proletariat-charged seventh album. Resistance carefully mixes the Afro-beat rhythms we've come to expect with big band horn ensembles, tinges of Zouk and more. Aesthetically cleaner than 2012's eight-tracked Solidarity recording, Resistance is a modern tribute to music that is by no means retro, no matter how long it's been around.

Far too driven for laurel-resting, Souljazz incorporate two key elements to distinguish Resistance from their earlier work. The first is a heavy lean on Caribbean and African francophone genres that allow for a natural evolution of the band's core sound. The second is that, rather than relying on grooves and sporadic responses, the tracks on Resistance all incorporate a strong lead position, with various members rotating to fill that up front spot.

That shared responsibility has led to great results, with the variety of voices suiting the wide range of music. Ray Murray brings an intensity to his performance that is well paired with the frantic rhythm of "Shock and Awe," and percussionist Marielle Rivard especially shines in the lead role on "As The World Turns" and brass-heavy party tune "Soleil Couchant."

The album concludes with "It's Gonna Rain," and a bubbling bass soul melody that conjures not-too-distant memories of early Mayer Hawthorne records. And while it's somewhat odd to conclude the record with rain, that precipitation is meant to wash away any troubles you otherwise haven't been able to shed, and it's a gentle way to conclude this wild ten-song ride.

Resistance is evidence not only of the Souljazz Orchestra's abilities, but also of their audacity. (Strut/Do Right! Music)



NovaPlanet
par Captain XXX
le 25 septembre 2015
France

Attention ! Chaud devant ! Le Souljazz Orchestra revient ! L'explosif combo d'Ottawa nous avait habitués depuis 2002 à une incandescente fusion entre Jazz, Afrobeat et musiques caribéennes... Avec le nouvel album "Resistance" sorti le 4 septembre chez Strut, on retrouve les bases et de nouveaux ingrédients qui vont encore augmenter le potentiel détonnant de leurs concerts : bienvenue au Coupé Décalé, au Zouglou, au Zouk, au Compas... Bref, aux Cadences infernales en vigueur d'Abidjan à Pointe-à-Pitre...

Ce qui nous promet à coup sur le retour d'un épisode anticyclonique et caniculaire, d'autant que la bande de Pierre Chrétien a depuis longtemps gagné sa réputation de sacré groupe de scène à l'efficacité groovistique imparable...

Autre raison de se réjouir : on connaissait leur sens de l'engagement politique, anticapitaliste et altermondialiste, surtout décliné au travers des titres et du design des pochettes d'albums (Freedom no go die, Solidarity, Manifesto).... Ce coup ci, ils franchissent le pas et sortent du format strictement instrumental pour nous offrir des textes brulots et évoquer entre autres les évènements de Ferguson, les printemps arabes ou le mouvement "Occupons Wall Street".... Et je ne serais pas étonné que quelques-uns de ces titres se retrouvent dans la bande son de nos prochaines manifs.... En attendant, dansons, maintenant !



hhv.de mag
text Frédéric Hartmann
23.09.2015
Germany

Das »Souljazz« in The Souljazz Orchestra darf man nicht allzu wörtlich nehmen. Wayne Shorter übersetzte kürzlich noch den Begriff »Jazz« pointiert mit: »Trau dich!« Und was diese kanadische Kombo wirklich ausmacht: sie traut sich. Mehr denn je zuvor haben die Mannen um Pierre Chrétien mit »Resistance« nun ein Album geschaffen, welches vor allem ein Politikum ist. Ein kurzer Blick auf das Artwork, das Lesen des Titels, geben die Richtung ganz klar vor – Traut euch! Nicht etwa, wie im Okzident, vor einem Altar herumrutschend, sondern ganz im Sinne von Stéphane Hessels Empörung. Lauthals in den Chören, klirrend und scheppernd im rhythmisch flotten Marschschritt, und mit den so markanten Hörnern nachdrücklich am Puls der Zeit. Jericho bebt wieder. Die mentalen Mauern befinden sich seit geraumer Zeit im freien Fall. Und so hört man in der Subversion der Texte und begleitenden Kriegstrommeln von »Resistance« weniger das Unbehagen der Unterjochten, als vielmehr die überschwängliche Freude des Umbruchs. Ein jeder Track ist ein Manifest des sich offenbarenden Wandels. Mal entspannt die Dinge hinnehmend, wie in »It's Gonna Rain«. Meist aber zielgerichtet und entschieden den im Abendland längst überfälligen Morgen danach abwartend wie in »Bull's Eye« oder auch »Shock And Awe«. Wir sind die 99 Prozent! Wir können das schaffen.! Und wenn der Tag kommt, dann wird man sich dazu an dieses Album als einen der kulturellen Beiträge des Jahres 2015 erinnern.



Dusty Groove
August 2015
Chicago, IL

Hard to resist the groove of a group this great - one of the longer-running Afro Funk combos around, and one of the best too! The group definitely have a touch of the soulful jazz promised by their name – thanks to strong solos on alto, tenor, and baritone – which often break out from the tight, rhythmic frenzy of percussion, drums, and keyboards! Most cuts have vocals, but the instrumental energy of the group is what really wins us – sharper than ever as the group keeps growing! Titles include "Shock & Awe", "Greet The Dawn", "Ware Wa", "Kossa Kossa", "Soleil Couchant", and "Bull's Eye".



Ottawa Magazine
by Fateema Sayani
August 20th, 2015
Ottawa, ON

The new Souljazz Orchestra album—out September 4—continues a theme started long ago with their debut, Freedom No Go Die, released in 2006. Nearly a decade on, the globetrotting Ottawa act continues its power-to-the-people rhythms with Resistance (Strut Records/Do Right! Music). Find it on CD, vinyl, and digitally on September 4.

Resistance finds the Souljazz Orchestra in fine form and thoroughly flexing a new muscle. The band, which began as an instrumental outfit, steps out with its first all-vocal album. It sees keyboardist Pierre Chretien, drummer Phillipe Lafreniere, sax player Ray Murray, and percussionist Marielle Rivard each taking a turn at the microphone delivering trenchant social commentary, political wake-up calls, and mobilizing mantras.

Lafreniere calls for a better life for workers and the poor in "Greet the Dawn," a hip-strutting call-and-response dazzler that sets the tone for the rest of the album.

"Shock & Awe" has a rat-tat-tat firing-round vocal delivery. Contrasting that militaristic sense are lyrics celebrating revolt and the power of people to come together in the face of adversity. (Check out the SJO's video for that tune here and grab a free download of this album's Occupy-inspired tune "Bull's Eye" via PopMatters).

That vibe carries into "Life Is What You Make It," while "As the World Turns" shows Marielle Rivard's vocal chops. Those came to light on the group's previous album, Inner Fire, when she covered Andy Bey's "Celestial Blues."

Keep "Courage" and "Ware Wa" on your dancefloor playlist and wind down with the sweetly contemplative "It's Gonna Rain."



FIP
par Guillaume Schnee
le 13 août 2015
Paris, France

L'incandescent collectif canadien dévoile le clip de "Shock And Awe" et le titre "Bull's Eye", extraits de leur septième album prévu en septembre avant une tournée française en octobre.

Un an après "Inner Fire" (Sélection Fip) le sextuor d'Ottawa revient le 8 septembre, sur le label londonien Strut Records, avec sa fusion powerful de musiques latines, afro, soul et jazz. Le groupe The Souljazz Orchestra fondé en 2002 par Pierre Chrétien s'est cette fois inspiré des musiques africaines des pays francophones (Coupé-Décalé, Zouglou, Ndombolo) et des caraïbes francophones (Zouk, Compas, Cadence). Rajoutez une touche d'afrobeat vintage et des textes engagés et vous obtenez ce cocktail groove explosif et fiévreux à découvrir absolument sur scène en octobre.



Juno Records
August 2015
London, UK

Afro/Latin/Tropical fusionists The Souljazz Orchestra have long established themselves as one of the most incendiary live acts on the circuits, reinforcing this rising reputation with a string of fine albums. Here, they deliver their seventh full-length, adding notable French Caribbean and Francophone West African into their already distinctive musical melting pot. Predictably, the results are impressive, with the Ottawa-based sextet effortlessly flitting between humid, Afro-Cuban workouts ("Ware Wa"), [organ]-heavy dancefloor freak-outs ("Bull's Eye"), slick soul sing-alongs ("As The World Turns"), and highly politicized Afrobeat jams ("Greet The Dawn", "Shock & Awe"). As usual, it's all impeccably played and produced, resulting in another killer dose of cross-cultural dancefloor fusion.



Gray Area Music
by Nick Gray
September, 2015
UK

Producing a unique musical stew of pan-African, Funk, Jazz, Soul, Latin and the broad spectrum of Caribbean music for over 10 years, Canada's finest group continue to extend the boundaries on a 7th collection. Having so many highlights along their journey: from compositions like 'Insurrection' to 'Kapital', 'Resistance' takes the Ottawa collective into the next chapter as they produce their first all-vocal album. Elements of West Africa and the French Caribbean are part of the mix as those eighth note beats, rhythm guitar and punchy horns drive the music forward. 'Shock & Awe' lands at lightning pace: pure rhythm, led by a mantra and one of many irresistible horn patterns. 'Kossa Kossa' is full of addictive riffs, winding synth lines, veering towards dirty funk. The future timeless classic is album closer 'It's Gonna Rain' as it leaves a positive message via a gruff, soulful, vocal and chorus however 'As the World Turns' is the one to lead the Souljazz Orchestra to potential commercial success and introduce the unknowing to a catalogue of treasures. Out now on Strut Records.



Open Ear Music
by Mike McDonald
September 8th, 2015
UK

Souljazz Orchestra – Resistance (Strut Records)

We enjoyed the last Souljazz Orchestra release so much we couldn't resist getting in on the latest. While the last outing was flavoured with classic Blue Note style Jazz, this one lets in a bit more Funk and Caribbean rhythms, alongside the typical Afro-Jazz sounds. There's plenty to capture the imagination in this set, whether it's the organ and sax in 'Bull's Eye', the syncopated guitar and Latin horns of 'Courage', or the infectious energy of the Afro-Funky 'Ware-Wa'. Our highlight comes in the shape of the alternating electric piano and horn riffs of 'Kossa Kossa'.



Narc Magazine
by Joe Fowler
September 1st, 2015
Newcastle, UK

With more than a hint of Afrobeat, this funky tropidelic album ticks all the boxes necessary to oil every joint in this ageing body of mine. Infectiously kinetic, the big phat orchestra sound is easily achieved with a horn section featuring every sax under the sun, percussion aplenty and authentic vintage keyboard sounds. Strut Records have played a blinder signing this magnificent Canadian band and the album is an absolute triumph. At times sounding like Fela Kuti's Egypt 80 and at others like anything from the JBs to Jimmy Cliff, Souljazz Orchestra manage to retain their own sound. The lyrics are socially conscious and simultaneously uplifting, although at times a French A Level would be useful. Their own track names sum them up nicely: Shock & Awe and Bullseye.



Marlbank
by Stephen Graham
September 5th 2015
London, UK

If you enjoyed the SoulJazz Orchestra's Inner Fire last year - the lively vocal and horn-flavoured Canadian outfit led by keyboardist Pierre Chrétien that effortlessly cook up a sound that mixes in lots of dancey Afro-jazz while retaining a clubby summery side to it - you'll want their new album Resistance.

Just released on the Strut label if anything it's even better, the extra input this time much more vocals and a flavour of the French Caribbean including styles like zouk that Courtney Pine has tackled in recent years to add to the Orchestra's existing west African influences. Again there's a huge boisterous drive and invention to the band's sheer energy and message music beyond the rituals of the dancefloor that take what they're doing to another more jazz-heavy level.


Le Droit
par Yves Bergeras
le 5 septembre 2015
Ottawa/Gatineau, Canada

Avec Resistance, le Souljazz Orchestra réussit l'impossible: élargir davantage ses frontières.

Le sextet ottavien - qui a pourtant exploré (et explosé, car il aime métisser les genres), à travers ses six opus précédents, les courants les plus percussifs et dansants de la musique du monde (afrobeat, jazz latin, soul, rythmiques caribéennes) - assimile ici, de façon marquée, des éléments mélodiques propres aux Antilles et à l'Afrique de l'Ouest francophones.

Ce septième disque reprend la signature festive du collectif faite d'envolées percussives cathartiques, d'un saxo baryton enflammé et de claviers analogiques rescapés du siècle dernier, mais il flirte plus ouvertement avec le zouk, le coupé-décalé et le ndombolo. Sur les aigres-douces Soleil couchant et Courage, on chante même en [français]. Les textes et les sueurs de Resistance sont, à l'image du titre, contestataires. À commencer par Bull's Eye, inspirée par Occupy Wall Street.

Quand le Souljazz souffle sur les braises, on se sent soulevé.



Só Pedrada Musical
por Daniel Tamenpi
em 09/09/2015
São Paulo, Brasil

A banda canadense The Souljazz Orchestra representa o que tem de melhor no cenário afro-groove tropical dos últimos tempos. Não só pela qualidade dos músicos, mas também pelo conjunto da obra lançada nos últimos cinco anos com quatro discos sensacionais, contando com o novíssimo "Resistance" que acaba de sair pelo ótimo selo Strut Records.

Apesar de manter a raíz em ritmos africanos, o novo disco explora sonoramente cada vez mais o lado latino e caribenho da banda trazendo forte influência de ritmos como zouk, salsa e coupé-décalé. Marca também como o primeiro álbum da banda em que todas as faixas tem participação vocal, se sobrepondo ao comando dos metais dos trabalhos anteriores. A qualidade continua lá no alto! Isso é o que importa! Tire a sua conclusão...


Pennyface
by Dylan Defeo
August 2015
New York, NY

The Souljazz Orchestra: Resistance — PF First Look

[...] Since 2002, The Souljazz Orchestra from Ottawa has cooked up infectious grooves with a seductive and booty-shaking mix of horn-driven Afrobeat and funk in tours all across North America and Europe. Their seventh album Resistance (their fourth on UK dance label Strut Records) simmers like the rosy afterglow of a summer sunset, tinged with Afro-Latin rhythms and nods to their Francophone world-music roots in the Caribbean and West Africa that is certain to keep the dance floor ablaze well beyond the midnight hour.

The six-member ensemble not only seeks to widen their listener's musical horizons, but also seeks to comment on the troubled times that have gripped the globe over the past several years; times that have spawned grassroots movements during the Arab Spring, Occupy Movement, and the racial unrest that has gripped America. The band's worldview is expressed through lyrics that are sympathetic with the plight of those disadvantaged by the greed and indifference of those in power, punctuated by the passionate delivery of all members of the band in traditional call-and-response fashion. The sing-song catchiness keeps the positive messages of equality on all levels of society whizzing around the psyche all day, giving the listener something to think about between getting down to the very same tunes at the summer dance parties that come forth by evening.

Despite the lyrics' consciousness of the suffering of the world, there is a decidedly positive standpoint: that each person has their own individual potential to rise above their struggles, and that the collective potential of many people can be the resistance to what drags society down. The lyrics in the opening track "Greet the Dawn" spell it out clearly when they say "if you kick a dog long enough, the dog bites back".

The socially relevant lyrics and songs steeped in classic Afrobeat reflect the vast musical legacy of Nigerian multi-instrumentalist Fela Kuti, who coined the term "Afrobeat" in 1967. Such tracks as "Shock and Awe" and "Bull's Eye" take on Kuti's rhythm-centric aesthetic to allow the lyrics to flow unabated with the beat. The horns growl underneath the pumping percussion and bass with a rich, breathy combo organ rounding out the soundscape. But, don't think this is a carbon copy of Kuti canon. The Souljazz Orchestra's cultural reach goes far beyond just that early synthesis of funk and world music. With one foot firmly in that storied past, the band unites continents and people with the addition of elements from disparate origins. The organic, earthen drive of the Afrobeat is punctuated by modern nods of zouk, Haitian cadence and, especially in "Shock and Awe", the pumping dancehall romp of modern Ivorian coupé-décalé music.

For all their stylistic variety, what really stands out throughout the album is the singular versatility of each member of the band; all of whom trade-off on lead vocals and auxiliary percussion in addition to their primary instrument. Band leader Pierre Chrétien alone alternates between guitar, bass, organ, electric piano, synth and clavinet!

Though the album is dominated by a hard-edged, danceable caper, Resistance is not without a delightfully laid-back side. While still tight and unshakably funky, tracks such as "Life is What You Make It" and "It's Gonna Rain" hearken the easy beats of NOLA R&B progenitors The Meters, and Brooklyn-based Daptone luminaries The Menahan Street Band. Tracks like "Soleil Couchant" and "Courage" see a more pronounced Latin feel, with sunny merengue horn parts that compliment both exuberant dancing and frolicking by the pool.

What sets The Souljazz Orchestra apart from their contemporaries is their unwavering emphasis on every aspect of the band dynamic among the members themselves. With the blessing of six multi-faceted musicians who strive to explore each aspect of their individual skills, the band on the whole demonstrates a constantly evolving give-and-take to allow for different explorations at different times. When there is no bass, baritone sax takes over, when guitar and keys take a rhythmic role, the horns become more melodic. The natural ebb and flow is a testament to not only the obvious talent of the members, but the remarkable chemistry they share from thirteen years of recording and touring. Their seventh album is the latest in a series increasingly exhilarating forays into indigenous genres and permeating grooves, and is a must-listen album for late 2015. Between the band's exuberant group vocals and high-octane delivery, The Souljazz Orchestra's world-music bark is as honed as their lyrical bite.